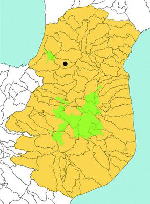 The Serre Regional Park has been established in 2004, has an area of about 17'000 hectares and is hardly developed for hiking which means that there are only very few marked trails.
Green heart of the Park are the never-ending beech forests on the Tyrrhenian side. They house one of the cultural and spiritual centers of the area: the Charterhouse of Serra San Bruno, founded by Saint Bruno of Cologne in 1091, where monks still live in strict seclusion today.
On the Ionian side, however, you can finde the mightiest waterfall in Calabria, the Cascata di Marmarico. Its water falls around 118 meters in depth. Already near to the Ionian coast the landscape is bare and wild. Here you can find the second jewel of the Serre, the Cattolica, a small Byzantine church from the 9th Century AD.
Walking in Serre Regional Park is not only a unique experience of nature, but also means to deal with the history of the Byzantine and Norman domination in Calabria and to walk in the footsteps of St. Bruno of Cologne and Greek Orthodox monks.