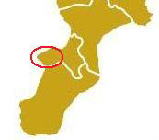 One could say that the Monte Poro with its area of about 500 sqare kilometers and its 710 meters above sea level forms the wart on Italy's toe, with on its extreme tip Capo Vaticano with its wonderful rocky coves and the town of Tropea. It is the realm of red onion of Tropea and the area where formerly houses were built of home-made mud bricks, the so-called Bresti.
Who chooses his accommodation here, during his vacation can enjoy the beautiful beaches and the crystal clear sea and combine hiking and swimming in an ideal way.
Walking on the Monte Poro means to take a trip back in time. There are no trails but only the old paths which were used by the farmers with their donkeys before the tractors came into fashion. And so our routes pass throug olive and orange groves, and often we have to fight our way through the both equally colorful a prickly Mediterranean vegetation, where former intensively cultivated land now lies fallow and abandoned and is overgrown with all kinds of shrubbery.
On our way past lonely farms and old mills, we will constantly encounter shepherds and old farmers who like to tell stories of the old times and will so grant us an insight into the culture of this area.