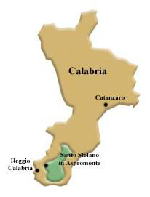 The Aspromonte National Park covers an area of approximately 64'000 hectares and is located at the extreme southern tip of Calabria, bathed by the Tyrrhenian and the Ionian Sea.
The landscape is of remarkable versatility. On the Ionian side wide gravel river beds, the so-called Fiumare and strange rock formations dominate the landscape. In height we find wild canyons and countless waterfalls, and the Tyrrhenian side is overgrown by lush green beech forest. And who ascends the highest peak, Montalto with its 1956 m asl will be rewarded with a breath-taking panoramic view into all directions.
The Aspromonte has seen the succession of many peoples who colonized this unhappy piece of the world in constant dispute and left it again and helped it this way to a rich history.
Particularly fascinating is the wolf population that one hardly gets to see, as well as the linguistic minority of the Area Grecanica, where the old people still speak Greek today.